5 Office Design Trends That Are Here to Stay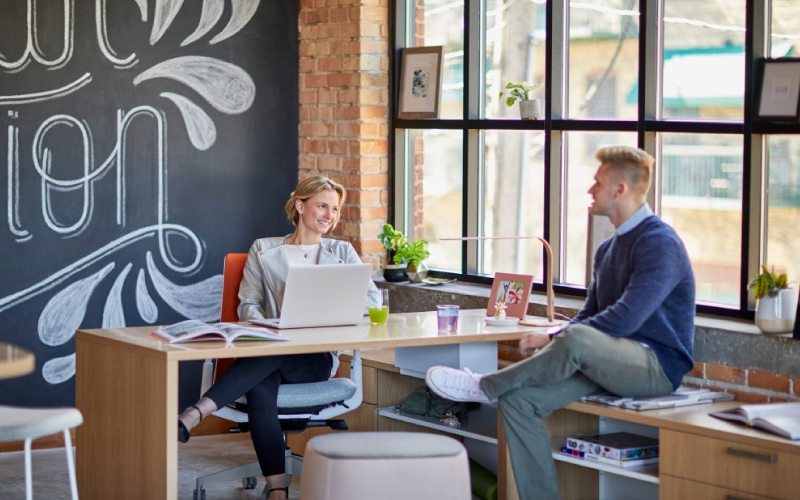 Office spaces should be designed for the working styles of employees rather than the year they were born.
Office environments have drastically changed in recent years.
Employees are spending more time at work and need an office that supports them both mentally and physically. Companies have realized that investing in office design will not only make employees happier but will also have a greater impact on the bottom line.
Some office trends have come and gone (goodbye cubicle farms!), while others have stuck around longer than originally planned.
The following office design ideas were once considered "trendy," but have earned the right to stick around: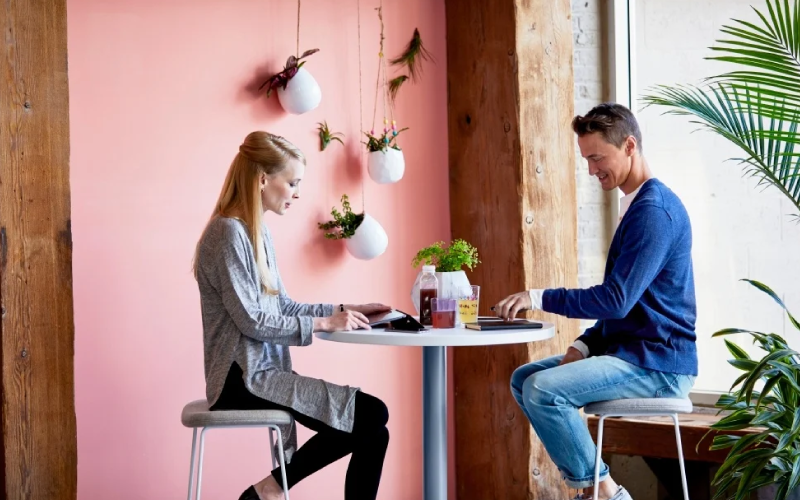 #1: People-Centric Workspace Design
THE PRIORITY SHIFT FROM EFFICIENCY TO HAPPINESS
Everyone wants to be comfortable in their workspace. Designing an office around the needs of the employees is key to supporting them as human beings, not just as cogs in the business machine.
People-centric workspaces are customized to support the individuals who work there. It starts with creating general spaces that facilitate work and bring people together (cafes, collaboration areas, etc.), but also includes more specific spaces. If a nursing mother needs to pump while at work, the office should have a space to do so other than the restroom. Employees with disabilities should have access to modified spaces and facilities that make them comfortable.
"…if a company's view of a worker is that they're just their job, that's all they're likely to get. On the other hand, organizations that recognize their people as whole human beings enable them to bring more to the table."
– Melissa Marsh, "People First: Embracing Your Whole Self in the People-Centric Workplace," Workdesign Magazine, May 2018
People-centric spaces prioritize comfort, freedom and choice. Allowing employees to decide how they want to work within a space is key.
People-centric spaces are also shaped by listening to the needs of employees and providing them with the right tools, technology and basic amenities (beverages, snacks, restrooms, relaxation areas). But companies can improve recruitment, retention and morale by anticipating things that will help employees manage their work/life balance.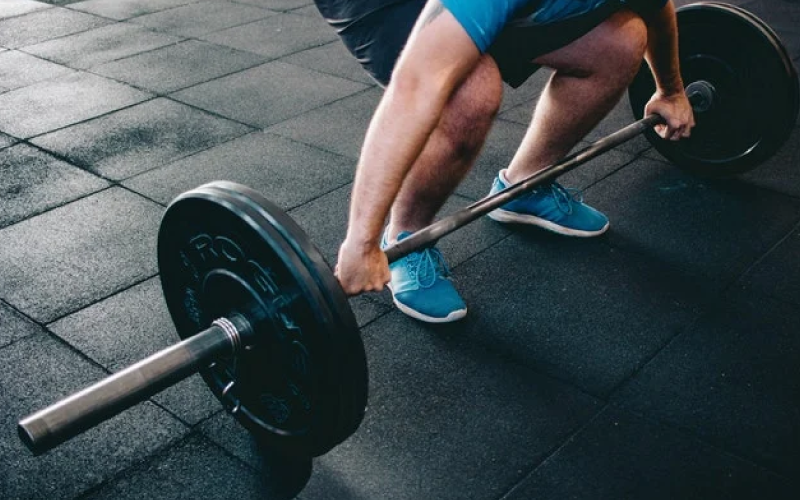 #2: Investing in Employee Wellness
PROACTIVELY PROTECTING PHYSICAL AND MENTAL HEALTH
Faced with ever-rising healthcare costs, employers have discovered the benefits of taking preventative measures.
It's become common for workplace designs to include space for a gym or workout area within the building. Companies that don't have the space, may include off-site gym memberships as a benefit.
Not only does providing options for physical activity improve an employee's mental capacity, but it can also help lower the costs of employer-provided health insurance premiums.
84% of employees have experienced physical, psychological, or behavioral symptoms of poor mental health where work was a contributing factor.
– Mental Health at Work Report 2016, Business in the Community, 2016
Focusing on mental health has proven just as important.
While measuring impact is much more complicated, it's easy to start with simple steps such as creating a dedicated break room where employees can take a mental break from work. Even redesigning a space so that employees can receive more natural sunlight has been shown to drastically improve their mental health.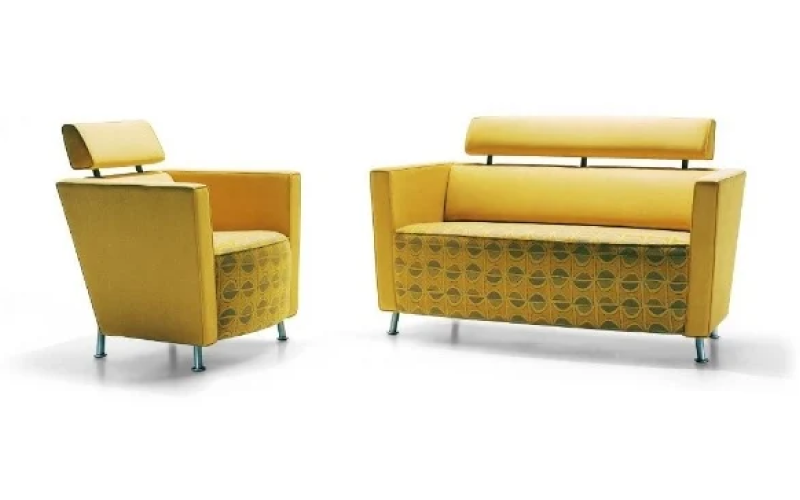 #3: Eco-Friendly Office Furniture
CHOOSING SAFETY & SUSTAINABILITY OVER SHORT-TERM SAVINGS
Employees are more aware of the environment and how current corporate practices will affect the future.
Many companies are choosing to take action beyond the standard recycling programs that are available in many modern workspaces by choosing sustainable furniture options. The materials and manufacturing process behind eco-friendly furniture have less of an impact on the environment and will not negatively affect the health of employees.
Office furniture made of plywood and particle board can contain formaldehyde. Cushioned office furniture that is more than a decade old may be covered with fire-retardant chemicals that are now deemed unhealthy. However, eco-friendly furniture is designed with materials that are harvested sustainably and don't contain highly toxic chemicals.
Flame retardant-free furniture which offers modern, science-based fire safety at no extra cost, is more durable and has a more comfortable "sit." Increased longevity of furniture equals added cost savings.
– Center for Environmental Health, Kicking Toxic Chemicals Out of Office Furniture, 2017  
Recycled materials can also be used to create green office furniture, which gives a second life to items that would otherwise end up in a landfill. Providing customized eco-friendly furniture within the office is an important way to support the ecosystem and provide safe workplace environments for employees.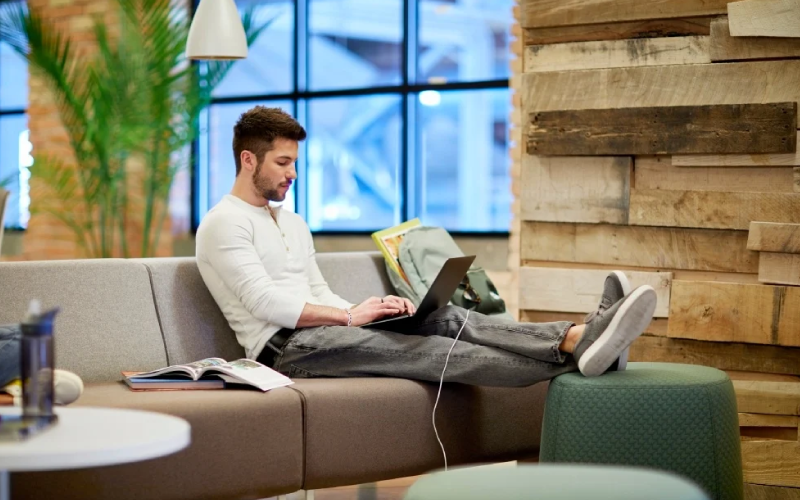 #4: Non-Traditional Workspaces
TRADING ASSIGNED SEATS FOR ACTIVITY-BASED SPACE
Most managers will admit that when they saw the first non-traditional workspace, with employees working in areas that look more like cafes than offices, they thought the trend would quickly pass. However, allowing employees to work in areas that are agile, adaptable and comfortable is important for creating a more engaging workspace.
Giving employees the choice of where (and how) to work gives them power over their workspace. More companies are adding spaces that look more like coffee shops and living rooms than standard office environments. Allowing employees to work in a variety of spaces is not only important for their well-being at work but can make employees more productive.
70% of respondents expect to incorporate activity-based workplace design into their businesses.
– CBRE "Managing Global Corporate Real Estate and Facilities" 2018  
Offering remote work opportunities is another non-traditional aspect of getting the job done. Employees who are allowed to work remotely are still highly engaged and productive in their work. Introducing a work-from-home option not only shows workers that you trust them, but it can also improve retention by creating more loyal employees who appreciate flexibility and freedom.
"It's clear to me that remote employees stay longer, work harder, and offer better ROI over co-located employees."
– Dave Nevogt, CEO of Hubstaff in Buffer's "State of Remote Work Report 2018"  
The ability to work, while not physically being in the office, is becoming a highly sought-after benefit that top talent look for when applying for a position.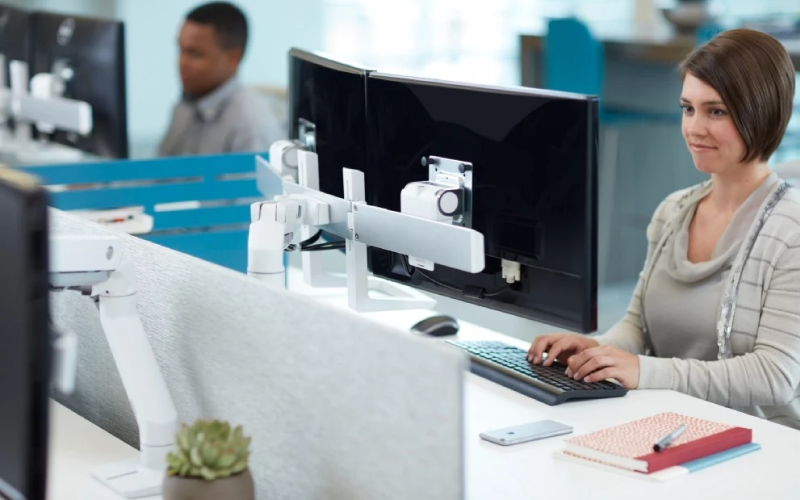 #5: Smart Buildings & Technology
CREATING AN EFFICIENT SPACE THAT THINKS FOR ITSELF
Employees are connected to the office by laptops and smartphones with unlimited, 24/7 access, so it makes sense that the workplace itself needs to get smarter.
Improving the technology within the workplace helps increase productivity and efficiency and maximize the utilization of space.
Smart building technology supports employees by creating an environment that's easy to customize. It can be as simple as providing workers the ability to adjust the thermostat or lighting or introducing artificial intelligence (AI) that works to find ways to reduce costs throughout the physical space.
The mission of smart workplace tech is to help create a more "frictionless work environment" that allows people to schedule, connect and communicate with co-workers with the touch of a button.
"…what makes the smart building so potentially significant for occupiers is not so much the smart system integration as the impact in human performance at every level… Smart buildings are easier to run, maintain and adapt to change, offering real benefits to office occupiers of every type."
– British Land "Smart Offices: A 2017 Vision for the Future"
Security is important for employees in both the physical and digital aspects of their workspace. Just as advanced cybersecurity has become standard, employees expect tech to improve their physical safety with ID badges, door codes and alert systems.
Facilities managers and corporate leadership can also benefit from AI measurement technologies that help them get real-time stats on day-to-day productivity and efficiency.