How to Choose the Best Office Layout for Your Business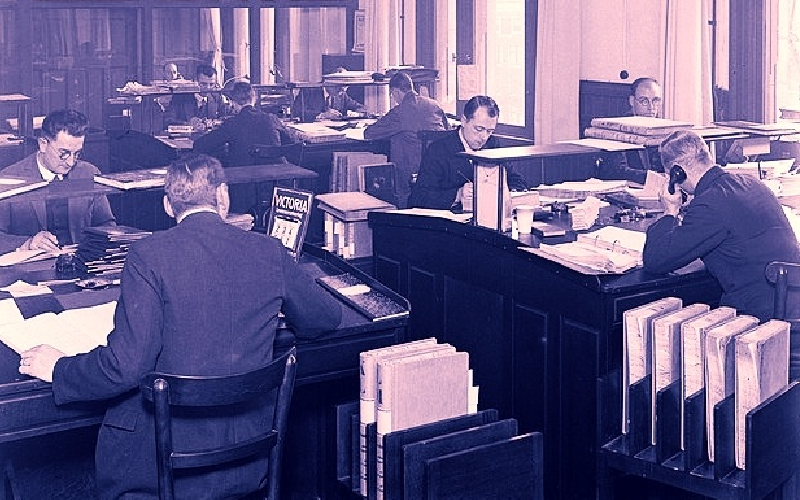 Workplace performance is directly linked to office design.
Successful office design is about comfortable workspaces, lounges that permit private conversations, adaptable conference rooms, inspiring reception areas, and other key features.
Sounds great, right?
Unfortunately, millions of employees throughout the United States work in offices that aren't conducive to innovative inspiration or optimum performance. This problem may cause billions of dollars in potentially lost profits for a multitude of U.S. companies.
It's not easy to find one metric that fully measures workplace productivity. However, creating a modern office design that facilitates all of the following four work modes can increase employees' overall sense of well-being and promote increased creativity, productivity and performance quality.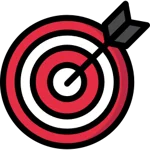 WORK MODE #1
Sustained Focus
Employees with jobs that require them to focus on complex tasks need a work environment that allows them to concentrate for long periods of time.
To reduce interruptions, add some 

carrells

 or private workstations that can also be used as study rooms.
Further reduce noise distractions with acoustic wall panels, room dividers, and even sound-absorbing furniture.
Ask your staff if more noise controls are needed.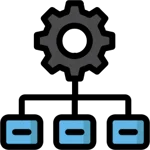 Enable more organic collaboration than you can expect in large meetings, by arranging seating so that team members are in proximity with others whose work emphases are at least in the same ballpark.
Include movable tables in your design, for unplanned meetings.
Create smaller, more private conference rooms—to save space and provide an atmosphere conducive to deeper discussions.
Integrate tech into tables for more productive small meetings.
Provide larger departments with their own huddle spaces, like little acoustical seating areas for small groups.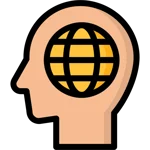 WORK MODE #3
Facilitated Learning
In today's "knowledge economy," offices need versatile spaces for employees to learn and to develop their professional skills through formal and informal training.
Maximize training space by creating multipurpose rooms for training and conference activities.
Implement wall 

storage

 for folding chairs and tables, and mounted or wireless technologies, to save a lot of space.
Incorporate spaces for self-study, maybe in the corner of the employee lounge.
Use comfortable seating and perhaps a dedicated media learning space, complete with tech tables, headphones, and adjustable height study desks.
Throw in an exciting treadmill desk, to stimulate circulation and generate increased energy during study.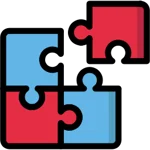 WORK MODE #4
Cultivated Social Environment
Employee burnout can result from insufficient number and quality of breaks from routine, toxic workplace culture, or ongoing stifling of creative impulse.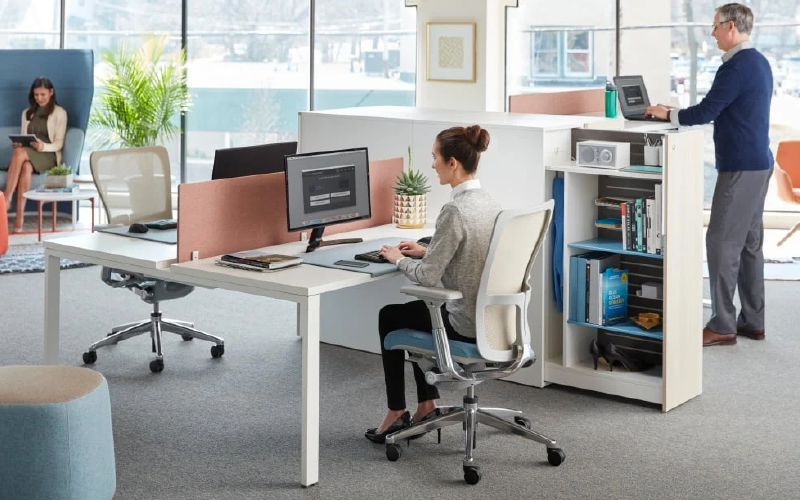 Office Layout Options
What are your goals for the new office design?
Are you expanding, moving, rebranding? Do you want to prepare for growth? Instill greater professional pride in your team? Attract top talent? Increase efficiency and productivity? Level information silos? Reduce office costs by increasing occupancy density?
See how other companies in your industry have configured their office spaces to meet similar goals, or see samples online, and learn best practices. Getting it right can help your group work more productively, serve as a highly effective branding tool, and help prepare your business for future growth.
LAYOUT OPTION #1
The Open Office Design
This plan is popular among Silicon Valley businesses and others with a predominately Millennial workforce. Workstations are positioned in various configurations, some touching, others clustered in various sizes of work zones.  Everyone in the office sits together, including managers, and discussions flow freely across the open space.
This is an inexpensive alternative to building a lot of private offices. It can also yield operational efficiencies. Huge drops in rates of email traffic and big increases in decision-making have been attributed to workers' opportunity to talk to each other directly in open offices, instead of relying on email to communicate.
PROS: You can walk up to your colleague and ask questions instead of emailing back and forth. It's cheaper to create and add workspaces with this design. Supervision is easy, as workers are in full view. The layout simplifies operations and can increase productivity.
CONS: Your colleague can walk up and ask you questions, instead of emailing. Concentration is frequently disrupted by continuous distractions. Multitasking also slows work and increases errors. The lack of privacy makes many employees uncomfortable.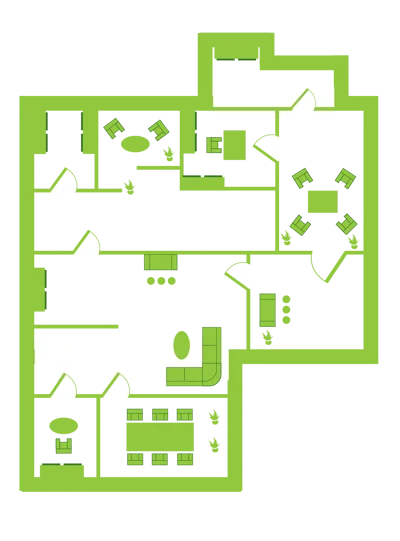 LAYOUT OPTION #2
Cellular Office Design
In this popular layout, the entire office space is divided into individual spaces (or cubicles) arranged for employees to each have private spaces. It provides a focused work environment, and it lends well to the systematization of office operations. Ceiling studs, windows, doors, or partitions are used to create individual spaces.
PROS: Having a private space to focus fosters autonomy. The peaceful environment lets people concentrate on their own jobs. It's ideal for writers, programmers, analysts, etc. It also allows privacy as well as security for confidential documents.
CONS: Dividing the floor plan requires additional space for cubicles. Walkways and doors also consume a lot of space in this design. (It's not recommended for a small office.) Also, direct verbal communications are not free-flowing, as in more open designs.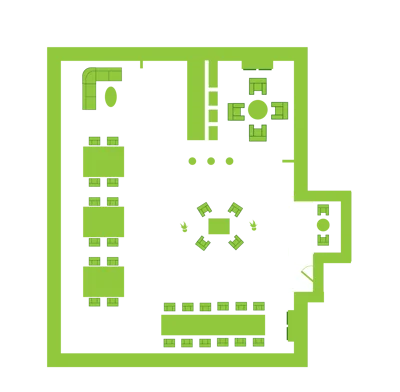 LAYOUT OPTION #3
Co-Working Office Design
Co-working office plans are popular with workers without designated workspaces. You can assign desks to workers based on their assigned job. This arrangement can be ideal for promoting social interaction among staff members.
PROS: Social interaction and networking with peers is easier. Users sharing space can discuss ideas, plans and projects, and receive feedback.
CONS: There's no privacy. Most layouts are semi-private offices with one or more people sharing space.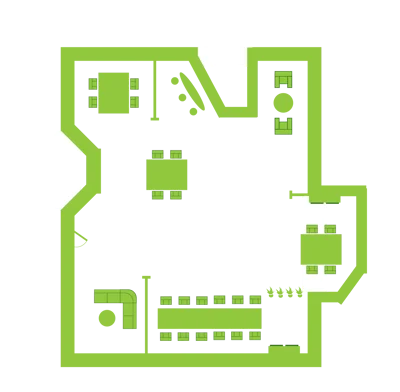 LAYOUT OPTION #4
Combination Office Design
This is an especially versatile office plan. If you want to include both cellular and open work options, a combination office layout may be just the setup for you. You can design individual cubicles and incorporate smaller spaces than in the typical cellular layout. Instead of dividing spaces by installing windows or doors, you can just place office furniture strategically to create separations.
PROS: This arrangement encourages focus and allows workers to interact with supervisors for help with processes. It also allows easy communication between departments.
CONS: Workers distract one another, which is bad for the employee and the company. Also, maintaining a standard operating system can be more difficult when employees are all separated into smaller cubicles.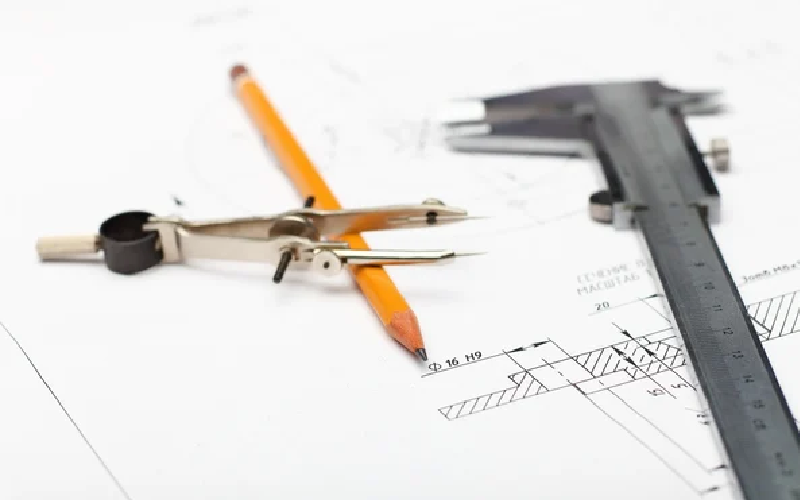 Guidelines for Planning Your Office Layout
Employees may differ in preferences for office layouts. Millennials and Gen Z workers may prefer open floor plans, whereas Boomers may want privacy and the relative quiet offered in other office space designs.
For whichever layout design you choose, use these basic guidelines to help you through the office space planning process:
Consider how each department's functions will be affected by the change you're planning. How will increasing density impact the quality of the work environment and business outcomes?
Create an office image that projects a strong image. Use your design to project your company's values and vision for your brand to your visitors and staff. Utilize a mix of design trends from industrial looks (urban loft), to comfortable homey styling with cushy sofas and decor.
Encourage collaboration. Allocate comfortable space for casual meetings, in addition to the conference room(s). Provide telecommunications to optimize meetings with customers and suppliers.
Design a healthy, safe workplace for employees. Help prevent injuries due to slips, trips, and falls by providing well-lit, slip-proof walkways. Provide ergonomic desks and seating that fit each employee. Consider sit-to-stand desks and benches, to allow your employees to raise and lower their entire work surfaces, for health benefits.
Use energy-saving "green" technology components, to create pleasant and sustainable workspaces. This strategy preserves your investment, and can even yield LEED sustainability credits.
Consider biophilic designs, to bring employees into contact with nature, for a greater sense of contentment and to inspire higher productivity.
Prepare for future growth. Use modular furniture, and design your office space to accommodate change. Use movable workstation components that can be reworked into future layouts.
Maximize small office design.  Achieve the functionality that a large company office offers in your small office. Design the office kitchen for quick conversion to meeting space, and use flexible layouts as well as multi-purpose spaces and furniture.
Stay on budget. For a successful remodel, get a preliminary estimate for the design you envision, including the amount of square footage you'll need for the number of employees, private offices, conference rooms, kitchens, utility rooms, etc., that you have in mind. Then, make sure the final bids with your architect, office designer, and office furniture supplier remain on target.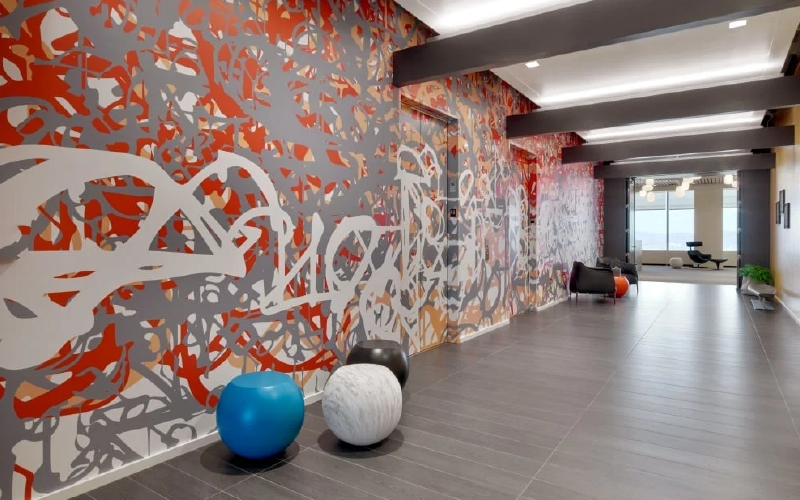 Designing Beyond Office Layout
Remember to take your design beyond simple space divisions and furniture choices. Create personality by adding artwork, accents, living plants, water features, or other sources of color and higher design to the space. The idea is to create a stimulating and appealing workspace.
Your office layout should reflect your company's core values, mission and function, not just current trends in office design. Be mindful of how different office layouts can affect your team's performance and employee experience.
Choose a design that serves your branding, growth and performance goals, and that also provides a comfortable workplace where employees can achieve both their organizational and personal goals.