Sustainable Office Furniture: How to Design an Eco-Friendly Workplace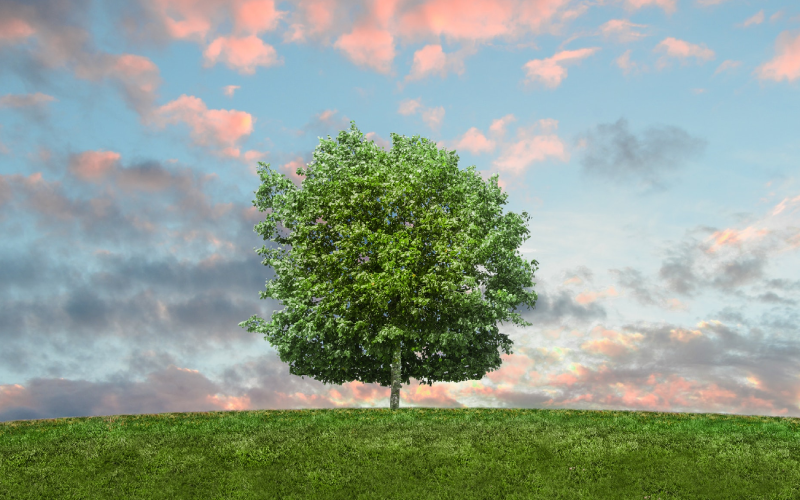 When it comes to the environment, every business can do better by focusing on the three key aspects of office furniture sustainability
Every office has a chair that nobody likes.
You know the one, that pitiful pariah of wobbly wheels and worn upholstery. It gets handed off during all-staff meetings like a hot potato.
Even the intern won't sit in it.
The decent thing to do would be to put it out of its misery. Just roll it to the curb with a "FREE" sign. Give it a farewell salute and say, "See you later, alligator."
And just like that, the world's saddest chair becomes somebody else's problem, right?
Not exactly.
Once it hits the curb, it becomes EVERYBODY's problem.
Making the Case for Green Office Furniture
You've probably spent time considering the impact of your office furniture on your own business, but what about its impact on the people outside of your workplace?
What about its impact on the planet?
It's hard to believe that one task chair could pack so much environmental weight, but all those lonely seats (plus desks, tables and cabinets) add up. According to estimates from the Environmental Protection Agency (EPA), up to 8.5 million tons, or 17 billion pounds, of office furniture ends up in U.S. landfills every year.
The cycle doesn't end either, because all that unwanted furniture is quickly replaced. The Business and Institutional Furniture Manufacturer's Association (BIFMA) reported that, in 2015, $10.2 billion worth of commercial furniture and equipment was produced, sold and used in the United States.
With numbers like that, it's easy to see why improving the sustainability of office furniture has become such a priority for American businesses as well as companies all over the world.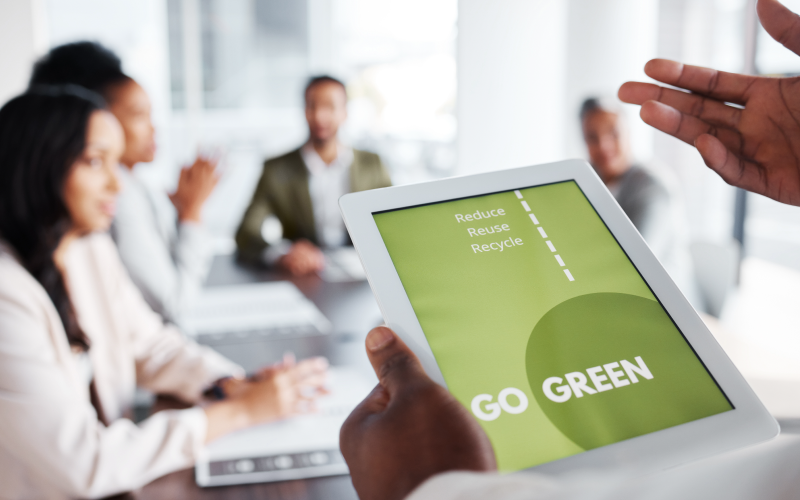 The 3 Keys of Office Furniture Sustainability
Sustainability starts with the decisions you make on materials and vendors and includes actions you take throughout the lifespan of your office furniture.
Let's consider the three key aspects of office furniture sustainability:
Materials + Process
Every desk leads a double life.
Its first life starts at construction and ends when the desk arrives in your office.
Committing to sustainable furniture includes considering that desk's path from raw material to factory to warehouse to you.
Materials have always been at the top of the sustainability list for good reason. We spend a lot of time at work, closely engaged with spaces and people.
Reputable manufacturers can provide a "list of ingredients" that tell you exactly what goes into the furniture you buy.
You'll want to avoid banned materials and "chemicals of concern" including PVC, benzidine dyes, ozone depleters, hexavalent chromium, certain hazardous phthalates, and PBDE flame retardants.
Volatile organic compound (VOC) emissions from building materials and furnishings can also be a major source of indoor air pollution. You'll want to ensure that any product has met rigorous and comprehensive standards for low emissions of VOCs into indoor air. Check for, or ask about a product's Greenguard Certification.
In addition to researching materials, consider things like transportation methods, labor methods and the carbon footprint of your manufacturers, distributors and vendors.
Sustainability involves thinking about the well-being of the people who manufactured the product and ultimately, the end-users of that same product.
Life Cycle + Longevity
The second life of that desk starts when an employee boots up their computer and begins work. It ends when that desk stops being useful. The longer that desk can remain an effective tool inside your workplace, the more sustainable it is.
That's why it's important to choose wisely. Avoid pieces that are poorly made or feel disposable. Office furniture that is built to last, and can be repaired and upgraded, is infinitely more eco-friendly than the alternative.
Seek out manufacturers and vendors that offer warranties, service plans and build-in contingencies for obsolescence. The average life of a fixed asset (including office furniture) should be about 7 years.
Completely replacing items within that 7-year lifespan is a waste of time and money.
Recycling + End-of-Life
When someone retires at your company, I'm guessing that they don't go out with the bulk trash pickup.
There are probably succession plans in place for the CEO and other top-level management. Typically, the final chapter of someone's career involves a big party, a gold watch and the appointment of a capable replacement.
Do you have an end-of-career plan in place for your desk?
You should.
Now, I'm not suggesting you gather the troops and raise a toast every time a desk is put out to pasture, but some premeditation is strongly recommended.
It's as simple as asking yourself: Can the piece be repurposed or used elsewhere in the company? Can the materials and component parts be recycled? Can it be donated to an organization in need?
Any business that champions sustainability should take responsibility for what happens next. At the very least, keeping your desk out of the 17-billion-pound office furniture pile-up is a good thing.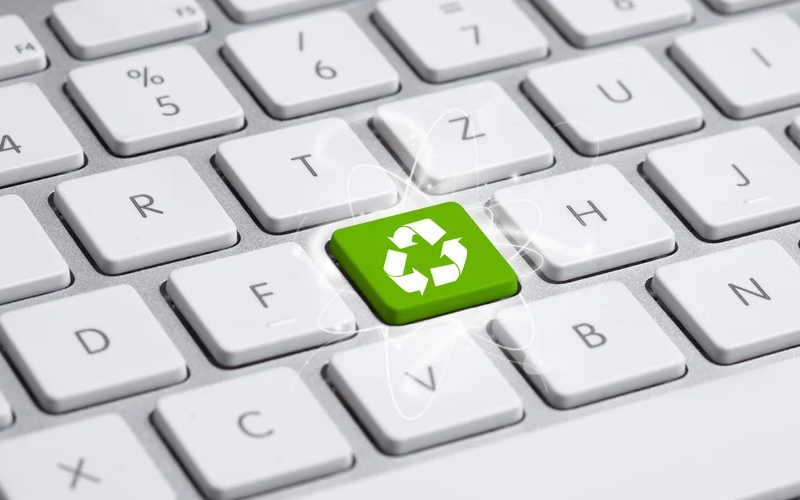 Setting the Sustainability Standards
Clearly, sustainability is a serious business.
You want to make your workplace better. Your company has committed to reducing its impact on the environment.
But you're busy… and only getting busier.
Odds are, you don't have the time to evaluate every detail of every furniture choice. Your schedule is too full to research which room divider factory uses solar power, or which carpeting trucks run on biodiesel.
Fortunately, there are people who've already figured that stuff out for you.
The ANSI/BIFMA e3 Furniture Sustainability Standard
BIFMA is the trade association for business and institutional furniture manufacturers. Since 1973, BIFMA has been the voice of the commercial furniture industry.
Together with the American National Standards Institute (ANSI), the association created the ANSI/BIFMA e3 Furniture Sustainability Standard, which includes an impressive number of criteria for measuring office furniture sustainability.

In June 2009, BIFMA introduced LEVEL®, the sustainability certification program for furniture. LEVEL focuses on four main areas: materials selection and usage; energy and atmosphere; human and ecosystem health; and social responsibility impacts.
According to BIFMA, "The level mark attests that the product, the manufacturing facility, and the company responsible for the product brand, have been evaluated against the multi-attribute criteria of the ANSI/BIFMA e3 Furniture Sustainability Standard by independent, third-party auditors."
If you're familiar with LEED certification for buildings, BIFMA LEVEL® certification is basically "LEED certification for furniture."
This is great news for project and facility managers who need to design a space and are overwhelmed by choices. Having a key metric for sustainability can significantly narrow the field when it comes to choosing office furniture companies, products, materials and configurations.
LEVEL® certification addresses criteria across corporate, facility and product impacts in a way that few other certifications do.
There are three levels of certification. The higher the number, the more criteria have been met. Manufacturers are awarded points if they recycle content, use regional materials, rapidly renewable materials, certified wood and low-emitting materials. The certification even takes into account a company's social actions, energy usage and health impacts.
You'll find that most major office furniture manufacturers have embraced this standard and offer published statements about the sustainability of their products.
For example, Haworth's sustainability objective is to "Understand, reduce, and eliminate the negative environmental impacts from the manufacture, use and end-of-life management of Haworth products and workspaces."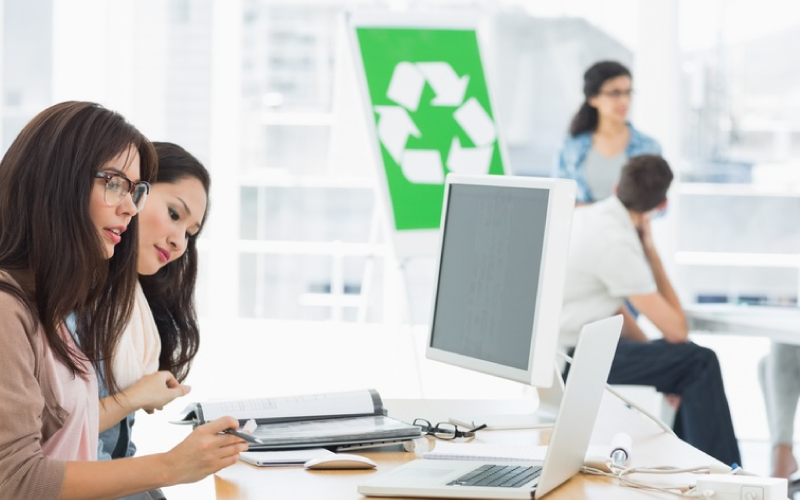 How can you build a more eco-friendly workplace?
Shop green and recycle old office furniture.
Keep it simple and keep it up.
If you're going to buy new furniture, do your homework and ask more questions. If you're working with a workplace design partner, let them know about your sustainability requirements upfront. Insist on LEVEL and Greenguard certifications.
If you have old furniture for disposal, do everything you can to keep it out of the landfill. While recycling one sad office chair probably won't save the planet, it's an easy solution that keeps us from adding to an already epic problem.
Contact local schools, churches, non-profits and charities. You can also reach out to your friendly neighborhood office furniture dealer for advice on alternatives to dumpsters and curbside drop-off.
Here at New Day Office, we have several local recycling options available for businesses that need to get rid of old office furniture. Best of all, they're not top secret, so feel free to get in touch if you need more information.
If the concept of workplace sustainability feels overwhelming, don't worry. Your company's evolution from "kinda-green" to environmental enlightenment isn't going to happen overnight. Change takes time.
But once you make sustainability a priority in the workplace, even the little things you do will make a big difference.