How to Design Your Office Based on Work Styles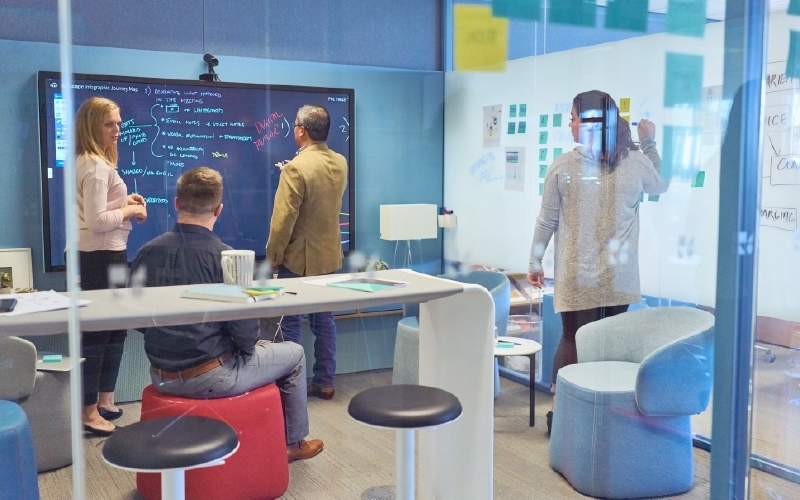 Here's something you should know about creating a great office culture…
You cannot conjure great corporate culture out of thin air.
"Creating a great office culture" has shot to the top of the list for lots of CEOs. But it's important to understand what all the buzz is about.
Culture is not a mythical creature or an elusive muse that you can summon and subdue with the right arrangement of standing desks and bean bag chairs.
Culture is not an automatic by-product of a "cool office."
You can't make it, force it. or fake it.
Great office culture is an elusive chemical reaction that only occurs when a smart company designs an appropriate, engaging and healthy space.
In the ever-changing business universe, your company needs to have a clear idea of itself before anyone starts ordering new furniture. That means putting in the hard work to identify your organization's vision, mission, values, personality and goals… and communicating those things to everyone involved.
First, you build culture with your bare hands. Then you translate it into physical space.
Businesses who work at it can reap significant rewards.
A Harvard Business School study that collected data from 207 organizations over 11 years, concluded that companies that actively develop their culture return 516% higher revenue and 755% higher income than those that do not.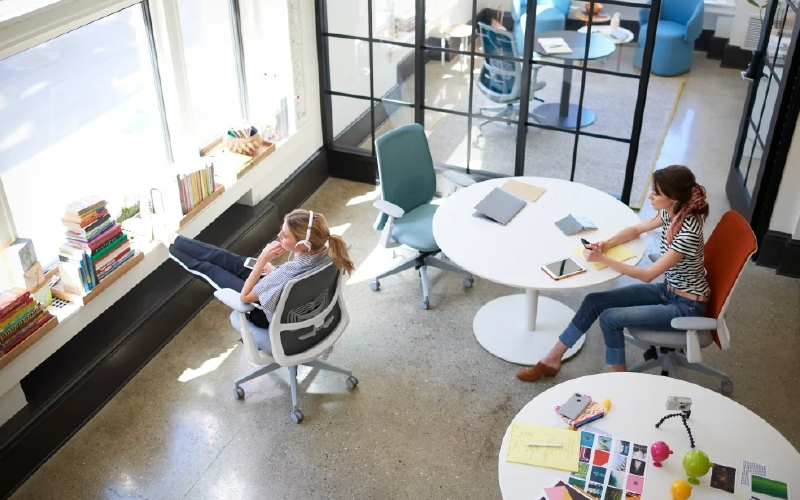 Culture thrives in the right conditions.
"People value a healthy work environment," said Damon Josue, NCIDQ, LEED AP, principal for 7 Hills Advisors, a commercial real estate solutions company based in Richmond and Virginia Beach, Virginia. "They want a place that provides them the resources, culture and enjoyment to get them through their day."
"Workplace environment has become a decision-making factor in whether or not you take a job or stay in an organization."
Before you construct where you are, deconstruct who you are.
"Ping pong tables, a new space and free food can be a great addition to a workplace," said Tracie Sponenberg, SHRM-SCP, SPHR, senior vice president of human resources at The Granite Group, based in Concord, New Hampshire. "But to really cultivate a great corporate culture, companies should offer meaningful work, an engaging work environment, proper training and supportive managers."
"Activities, incentives [and] reinvesting in the space should be used to enhance an already strong culture or assist to grow a culture. A 'fun' work environment with terrible managers and no support is not a fun environment."
Management and support depend on a clear, shared vision. If your company hasn't clearly identified and communicated what is most important, take time to make that happen.
Because company culture not only affects employee happiness but also productivity, engagement, and bottom-line profitability. According to a Deloitte study – "94% of executives and 88% of employees believe a distinct workplace culture is important to business success."
Define who you are as a company. Then design your company space around who you are.
"Open offices continue to be a trend," Sponenberg said. "Today, many employees can work anywhere or anytime. Many companies are trading in traditional offices and cubes for open,
unassigned seating. This can foster collaboration in the right environment, and most definitely can save on office space needed."
Different employees might have different needs.
"One of the more effective holistic trends in the workplace is providing 'choice' in the environment," Josue said. "Very few people only perform collaborative work or only perform focus work. Technology has provided mobility. There is also less talk about work-life balance and more work-life blending.
"Providing a workplace environment that gives people the choice on how to accomplish their day has become successful. A blend of open and closed workspace, communal areas to allow people to recharge for both introverts and extroverts, blend of meeting spaces to accommodate different styles and behaviors. All of these types of spaces are entering the workplace together."
The other design trend, he said, more of a business model, is a greater focus on people.
"Once again, efficiencies and cost savings used to rule the roost, but business owners are also realizing if your greatest asset, your people, are not happy, engaged and valued, then they will not perform well," Josue said. "We have seen more emphasis on well-being, branding, comfort and connectivity in the workplace."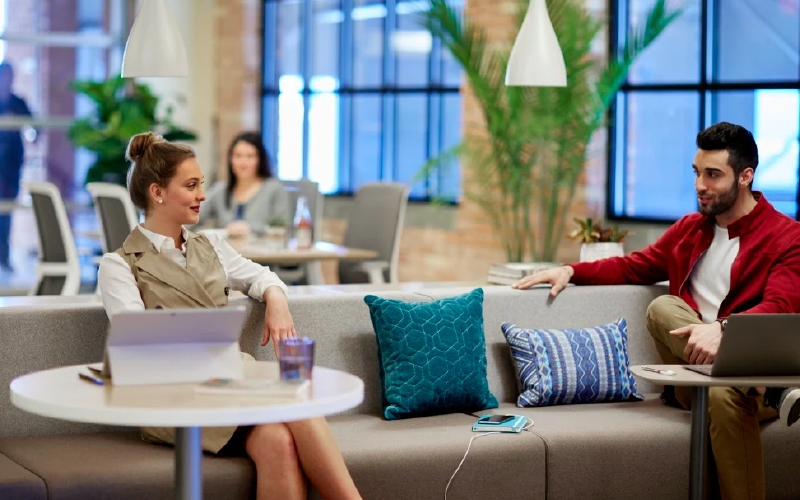 Some office space decisions come down to cost.
"Why take 15,000 square feet when you need 12,000 square feet?" Josue said. "Why pay Class 'A' rent if your company only needs to be in a Class 'B' building?"
Space, he said, is a complex, intertwined ball of yarn.
"It's not just architecture and furniture," Josue said. "A choice about space affects people, productivity, brand, technology, cost, well-being and the list goes on."
Sometimes, spending more will be worth it.
"Cool office spaces – with a solid or growing culture – can also help," Sponenberg said. "The Predictive Index in Westwood, Massachusetts, for example, transformed itself in recent years into a high-tech company with open seating, glass walls, free food and scooters in the office. But, they also have a dynamic CEO and strong culture. This can help attract some of the best and brightest."
Culture is always a work in progress. But why is it so important to find a space that fits your company's personality?
"Connectivity," Josue said. "Companies are highly focused on brand. Brand sells. Brand is about who you are, what makes you unique. You want your employees and clients to always be reminded of what your organization is about. It completes a sale. It keeps people engaged in a mission. It makes you memorable.
"Your brain processes imagery faster than words. If you can pair the look of your workplace with what you are saying, the message will be clearer."
The Granite Group is a wholesaler of plumbing, heating, cooling, water and propane supplies. This is apparent at each of its locations – even its corporate office, which is designed with pipes as handrails.
"You would not want to walk into a retail store for teenagers and find decor that is out [of] your grandmother's house," Sponenberg said. "And you would not want to walk into your new job in a high-tech company and find a space that didn't fit the company. Culture should bleed throughout everything you do in the company, including designing the space."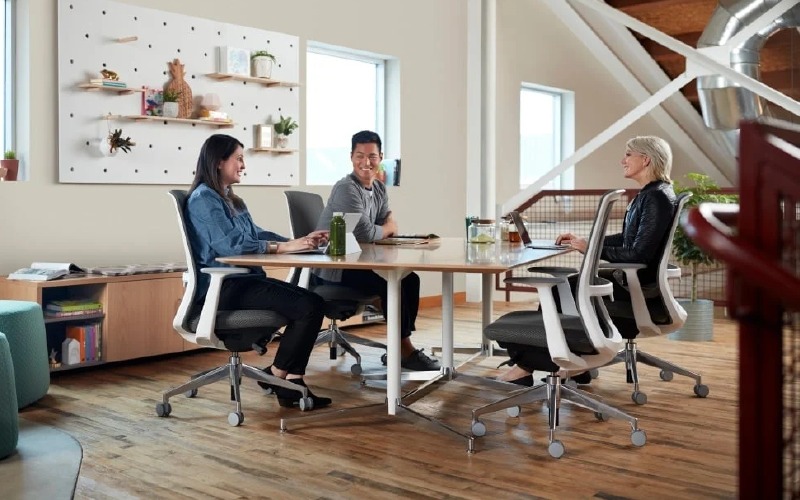 Layout, design and furniture affect employees and profitability.
"Layout increases productivity by enhancing [a] working relationship," Josue said. "Having departments that work closely together located together saves time and increases communication. Lowering distractions and creating privacy where needed enhances focus and is driven by layout. Layout affects acoustics. One of the most important aspects of space is the overall layout.
"Selecting the right furniture also affects productivity but can also play a significant role in well-being. If you have furniture that supports you ergonomically, it can increase one's health, making [employees] more productive. If you have a comfort, it increases one's ability to focus and lowers distraction.
"The right layout and furniture selection can also lower cost, which also helps with overall profitability. Acquire the right amount of space with the right furniture solutions."
Once you find the right space and everybody is on the same page, you will need to keep working on moving things forward. Communicate with your staff to meet changing needs, and constantly gauge progress and productivity.
"Sometimes it's a natural tendency of employers to cut cost on design and furniture," Sponenberg said. "And some of that may be warranted. However, spending money on a layout and design that fosters collaboration can help provide a more supportive work environment. Purchasing office furniture to make employees more comfortable can make them more productive. A supportive work environment with happy, engaged employees is not just good for employees, it is good for a company's bottom line."
The quest for the perfect company culture is an ongoing mission and not an overnight success.
Define who you are as a company, create an environment that supports that definition and engages the staff, and continues to build on the culture to keep it strong.